In Nazi-occupied France, an American film star takes on the most dangerous role of her life in a gripping historical fiction novel about loyalty and resistance, inspired by a true story.
Paris, 1939. Hollywood actress Drue Leyton, married to Frenchman Jacques Tartière, lives as an expatriate in love. But when her husband is dispatched to Brittany to work as a liaison for the British military, Drue finds herself alone with her housekeeper, adrift and heartsick in her adopted city. With her career and fame forty-five hundred miles away, Drue accepts an opportunity that will change her life forever.
Befriended by seasoned wartime journalist Dorothy Thompson and urged on by political operative Jean Fraysse, Drue broadcasts radio programs to the United States. Her duty: shake America from its apathy and, as Nazis encroach and France is occupied, push for resistance and help from the US. As Drue and Jean fall under suspicion, Hitler sends his own message: when Drue's adopted country is conquered, she will be executed.
In a Paris that is no longer safe, Drue's political passion is ignited. She's prepared to risk anything to fight the enemy no matter how dangerous it gets—for her, for everyone she loves, and for everything she's fighting for…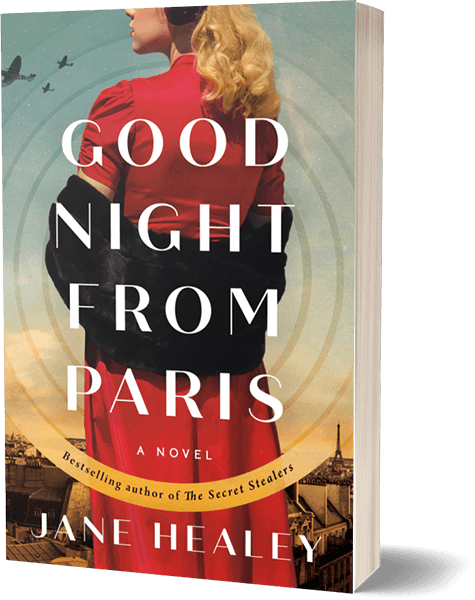 BOOK CLUB QUESTIONS - SPOILERS Ahead!
Had you ever heard about the 1930s actress Drue Leyton Tartiere before reading this novel?
What did you find the most surprising aspect of this story?
Did the book give you a better understanding of life under Nazi occupation in France during WWII?
Who was your favorite character? Why?
What did you think of Nadine and Drue's relationship? Did you think that Drue was overly harsh with Nadine at times? If yes, why?
Gone with the Wind was very popular in France during the war, and it speaks to the way literature and art can offer people comfort during difficult periods. Can you think of any other examples of books, movies and art providing comfort to people during hard times in history?
What did you think of the journalist Dorothy Thompson? Had you ever heard of her before this story?
The American women being imprisoned in the zoo outside Paris was one of the more 'stranger than fiction' aspects of Drue's story. What was your reaction when you first read it, and when did you realize it was historically accurate?
Drue and Jean's relationship evolved from friends to something more. Do you think Drue was being disloyal to Jacques in her feelings towards Jean?
Were you surprised by Mayor Voclain coming to the rescue of Drue, Nadine and their aviators in the end? Did your perception of him change by the end of the story?
Did you find there were any historical parallels in the novel to what is going on in the world today?
Did any scenes truly move you and make you cry? Did any scenes make you laugh? Which ones (if any!)?