"A breathtaking ode to female empowerment and the American dream…" –Redbook Magazine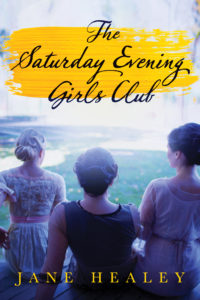 NEXT EVENT: 
Swampscott Public Library (Swampscott, MA), Tuesday, July 17th, 7:00 PM
The SEGC made the Great Thoughts Book Blog's Top Books of 2017 List! 
The SEGC is one of Redbook Magazine's "20 Books You Need to Take to the Beach this Summer"!
SheKnows says: "Every year requires a brilliant literary celebration of feminism, power and the American dream, and The Saturday Evening Girls Club delivers."
The SEGC is #1 on Brit + Co.'s list of "9 Spring Books  You Won't Want to Put Down"! 
The SEGC is #6 on Bustle's "15 Spring Releases About New Beginnings to Kick Start The New Season"!
Buzzfeed says: "A beautifully written and refreshing reminder of the importance of friendship, The Saturday Evening Girls Club is a can't-miss summer read." 
Bookstr says The SEGC is "…a sparkling multicultural literary gem."
Historical Novel Society says: "The writing is so smooth that readers may not consciously notice all the cultural details tucked in.…Fans of warmhearted sagas should enjoy this."
Ms. Career Girl says: "From the first word to the last, this unputdownable novel celebrates the art of overcoming oppression and cultural prejudice, and embracing the strength found in female friendships. This summer's most inspiring read for females, The Saturday Evening Girls Club is mandatory reading material for every feminist."
The SEGC is #6 on Redbook Magazine's 20 Books by Women You Must Read This Spring!
Read Jane's interview with Hypable.
THE SATURDAY EVENING GIRLS CLUB is available on Amazon or Barnes & Noble. 
Want to stay informed? Be sure to sign up to my Newsletter.
SaveSaveSaveSaveSaveSave
SaveSave